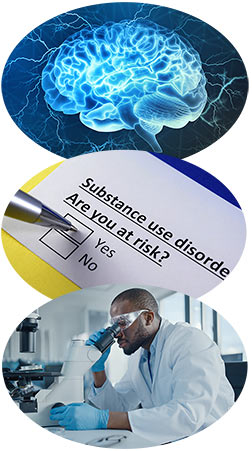 A major objective of the Kahlert Institute is to improve the continuum of care for individuals with SUD. Patients with addictions often face significant challenges in accessing treatment. This requires innovations in care delivery which can overcome burdens of stigma and inequity, meeting individuals where they are.
Institute experts therefore are seeking to create more effective care models and policies, from the individual patient to the medical system levels, which can optimize health for patients with addiction. These strategies include maximizing access to life-saving medications like buprenorphine or methadone, and addressing primary health care needs, major comorbidities such as mental health disorders, and social determinants of health.
In parallel to these efforts, physician-scientists are conducting a range of studies that analyze these and other innovative treatment strategies, such as how supportive therapies delivered by peer counselors can prevent relapse.
Finally, to ensure these efforts are grounded in the lived experience of individuals with substance use, the Institute is establishing a Community Advisory Board (CAB), which will include individuals with SUD, community members affected by addiction, and harm reductionists. Individuals interested in becoming a member of the CAB can find out more by emailing kahlertinstitute@som.umaryland.edu and staying tuned for more information.