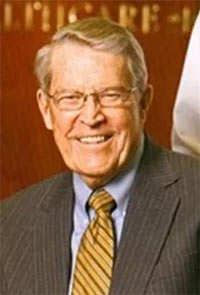 The creation of the Kahlert Institute for Addiction Medicine was made possible through a major gift from the Kahlert Foundation. The Foundation's mission is to provide grants to non-profit organizations that improve the quality of life and well-being of their surrounding local communities and citizens.
As one of the largest private foundations in Maryland and Utah, the Foundation supports efforts focusing on health care, education, youth programs, veteran organizations, and human services.
The Kahlert Foundation was founded in 1991 by William "Bill" E. Kahlert, co-founder of Evapco Inc., a worldwide manufacturer of evaporative cooling products. Mr. Kahlert was an active civic leader in Baltimore, serving as a board member of the Greater Baltimore Medical Center and Provident Bank, the Director of the Baltimore Region American Red Cross, and Chairman of the Blood Board.
Bill Kahlert's son, Greg, is now president of the foundation.
---
---